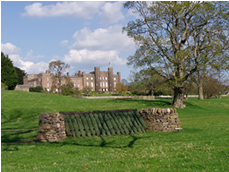 On 30th April 1950, the first One-Day Combined Training Test to be held anywhere in Britain took place at Hallyburton, Coupar Angus. The event was organised by the Central Scotland Committee under the Chairmanship of the late Colonel Lindsay of Hallyburton. It comprised three phases: Dressage, Roads & Tracks and Cross Country.
This was the start of one day "eventing" in Britain, which has led to outstanding performances by the British Team in competitions all over the world and in the Olympic Games.
After two years the Roads and Tracks Phase was replaced by Show Jumping; the event was recognised by and came under the auspices of the British Horse Society, and thus the One-Day Event was born.
Except for the abandonment in 1985 (due to extensive wet weather) and the cancellation in 2001 (due to the national FMD outbreak), the Central Scotland Horse Trials has been held continuously ever since at various venues near Perth at the heart of Scotland. In 1990 the Earl of Mansfield gave us the opportunity to return to Scone Palace amidst the wonderful setting on the banks of the River Tay, 2 miles north of Perth.